Salmologic Shooter WF Fly Lines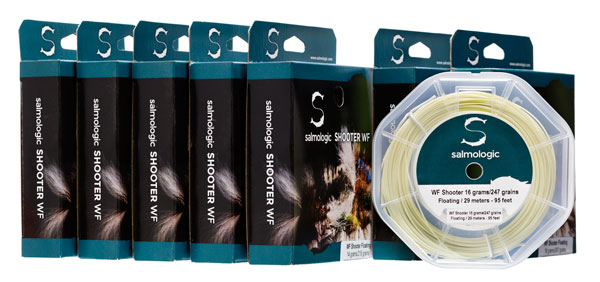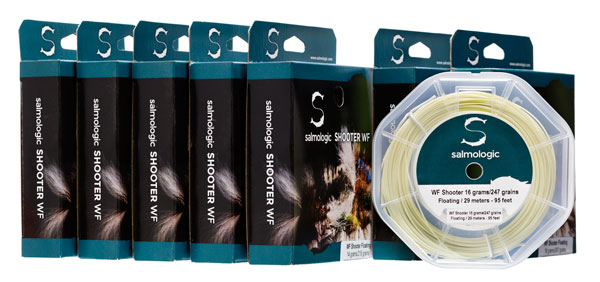 Salmologic Shooter WF Fly Lines
A real world fishing weight forward fly line for the modern fly fishermen. The short head on this WF line and unique tapering provides so many possibilities. It excels at dry fly fishing for salmon, perfect for fishing the hitch fly on those short casts, spey casts beautifully in awkward scenarios and lands with delicacy. Dry, hitch and wet fly scenarios are all covered with one line, there is no joints in the WF fly one for those who can't get over the loop to loop connection. The float/sink2 needs to be seriously considered if you are a spate river fisherman! These are perfect on switch rods!
For 2018 the Shooter WF is now available in four variations. The floating is designed for delicately presenting smaller flies to those difficult fish. If you wish to try dry fly or hitch fishing for salmon then there is no better line. The hover version, where the running line is floating, but the head is produced in a hover density, which places the head "just below" the surface of the water, depending on the speed of the current. This density is a perfect choice for fishing wet flies for salmon or big trout on the coast, lake or a in river where the conditions call for the line to be just beneath the surface. New additions to the shooter family are the float / intermediate tip and the float/sink 2 tip. Both of these lines feature a 12' tip of either intermediate or sink 2. The Sink 2 tip will be a great addition for those who fish for salmon and sea rout on narrow rivers where you do not want a connection between the head and running line.
All of our Weight Forward lines work perfectly with their matching logic leaders, so you can dial in the depth you want your fly to fish.